Hey Folks,
Lookin forward to meeting new friends and seeing old friends over the next couple of months. It's been a crazy ride since my last tour in Germany. My family and I have moved from the big city of Toronto to my hometown in Welland which has a much slower pace. Will take some getting used to but I know these streets well. Also I completed a new record called "Where Did We Get Lost" which will be available on Feb 6th. This tour will be a very special one for me. On my first tour I left when my daughter was only one month old, and it broke my heart. I watched her grow via Skype conversations, and she came to know me as Daddy iPhone. This time we decided that my wife and daughter will come along with me for a good portion of my tour. It's exciting and nerve wracking all mixed into one. Throughout my travels I have met so many kind, and accomodating people and I have no doubt my wife and daughter will feel welcomed by all of you. I'm looking forward to showing them all of the fruits that the road has to offer!
All the best, see you soon.
Powered by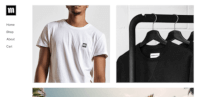 Create your own unique website with customizable templates.